Claire Parrish murder: Mark Golds guilty of Harlow killing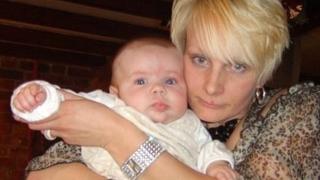 A mother-of-four was murdered after she told her killer she wanted to end their relationship, a court heard.
Claire Parrish, 37, was attacked at her home in Copshall Close, Harlow, in July. She died of a blunt force trauma injury to the abdomen.
Mark Golds, 46, was found guilty of her murder by a jury at Chelmsford Crown Court.
Golds, also of Copshall Close, had earlier admitted manslaughter. He will be sentenced on Wednesday.
The court heard Golds murdered Ms Parrish just hours after she told him she wanted to end their relationship because of the violent way in which he "controlled" her.
However, no incident of domestic violence was ever reported to police.
Ms Parrish's family described Golds as a "monster".
'Trapped'
In a statement, they said: "Claire should have had so many years to watch her young family grow up, but they were brutally taken from her; leaving a family shattered and one which will never recover.
"The adults realise that Claire will never be coming back, but her two elder children constantly have panic attacks, are stressed and feel very alone. Her two younger children are constantly distressed and ask when their mummy is coming home from hospital.
"Claire's children will never be the same while her grandson, Reece, doesn't understand why he won't see his nanny again. These 10 months have been sheer hell."
Det Ch Insp Stuart Hooper, said: "Mark Golds is a controlling individual who verbally and physically abused Claire, controlling her over a long period of time until she could take no more."
He said Ms Parrish had never contacted the police about the abuse she suffered.
"If there is something to be learned from this case, then it is that the police service is there to help people who feel trapped in such violent domestic partnerships."