Harwich Mayflower Project ceremony to cut keel and open training centre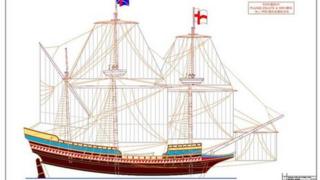 A landmark step to build a replica of the ship that carried the Pilgrim Fathers to America nearly 400 years ago has taken place in Essex.
The ceremony to cut the keel of a charity's £2.5m reproduction of The Mayflower was held in Harwich along with the opening of a training centre.
The Harwich Mayflower Project wants the boat to be ready by 2020 - the 400th anniversary of the voyage.
It is hoped the training centre will act as a "legacy" of the ship build.
'Amazing engineering'
The copy of the 100ft boat will take around two years to build, with work due to start in 2016.
Initial work on the site where the ship will be constructed is under way but will not be completed for some time due to the huge weight the concrete base will hold.
"The engineering to go into the concrete floor is amazing," said the project's training and development manager Jeff Webber.
"The ship will weigh 200 tonnes, the cradle 30 to 40 tonnes, the trailers and cranes 70 to 100 tonnes and then there is a building to go on top."
People should be able to see the boat being built from a viewing gallery in an old rail shed.
It will overlook the machine shop and also house some of the design and full-size template work.
Mr Webber said: "Harwich has a huge maritime history but not enough to bring people here for a day out.
"If we can make the Mayflower Project worth visiting, people will spend money on other things and that creates jobs."
'Create jobs'
Sir William McAlpine, chair of the Rail Heritage Trust, also officially opened the project's £200,000 training centre at the town's train station building on Wednesday.
The trust gave £100,000 towards restoring the dilapidated building, parts of which had been empty for nearly 20 years.
Around 15 people are on marine, carpentry, joinery and business apprenticeships, while 300 unemployed people have attended courses at the centre since 2011.
"We thought it would be a legacy of the project to create jobs instead of closing the site and making 30 to 40 redundancies once the ship is completed," said Mr Webber.
The Mayflower left Plymouth to sail to America in 1620 and its links with the Devon city been well documented.
However, supporters of the project have emphasised the importance of its Harwich heritage.
It is believed the Mayflower was built in the Essex town in 1590 while the captain and crew for the Pilgrim Fathers voyage were also from Harwich.
The charity has previously said the ship only docked at Plymouth to take extra passengers from a sabotaged vessel after setting off from Rotherhithe in London.