Old Colchester Magistrates' Court to become a restaurant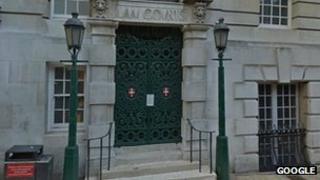 A former magistrates' court in Colchester is to be turned into a restaurant, cafe and function rooms.
The plans for the court in West Stockwell Street have been approved by the town's borough council despite concerns about noise.
The council said developers would have to be "sympathetic to the history of the court", which closed last year.
A spokesperson said the work would bring "an important building back into beneficial use".
The old court rooms and library are at the back of Colchester Town Hall.
The cells will be turned into a themed restaurant called Porridge and the two court rooms will become drinking and dining areas.
The old library will be converted into a fine dining restaurant and cocktail bar while rooms once used by political groups will be opened for functions.
A new magistrates' court opened in St Botolph's Circus in 2012 to replace the town hall court and two court rooms in Harwich.