Man dies after being pulled from sea near Southend pier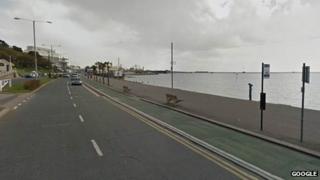 A man has died after being pulled from the sea off Southend on Friday night.
He was spotted in the sea off Western Esplanade by pier staff and CCTV operators and brought ashore by police and lifeboat crews at about 21:00 BST.
Officers attempted to resuscitate the man but he died.
Police have appealed for help to identify the man, who was in his late teens or early 20s, of mixed race with dark shaved hair and was wearing skinny blue jeans and braces.
He was also wearing a maroon-coloured top and black and white trainers.
A police spokeswoman said the man was carrying no personal documents and a fingerprint check had "drawn a blank".
She said officers would be testing the man's DNA and searching for him on missing persons lists.