Westcliff-on-Sea man's re-homed Athens dog 'bolted after seconds'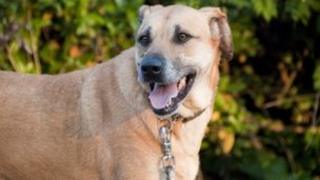 A man who re-homed a dog from Greece had the animal at his Essex home for just minutes before it bolted
Now, a staff member from the Athens dog charity has dispatched one of its staff to help Jack Isaacs find Maria.
Mr Isaacs, of Westcliff-on-Sea, had been unable to find a dog locally for him, but did not originally realise the Labrador-cross was from overseas.
The 67-year-old had answered an advert on the internet, assuming the number at the bottom was for a mobile phone.
Unperturbed, Mr Isaacs agreed to take Maria - one of 10 dogs found living with a homeless man in Athens - but minutes after the canine's arrival at his home on Sunday 23 June, it ran away.
"We got Maria back to our home and we had her about 10 seconds when the door was opened and she just bolted."
'Started as mistake'
He had been attracted to take on Maria, that had been found after being chained up for two-and-a-half years, after originally turning to his local RSPCA branch following the death of his previous dog.
However, they had nothing suitable and so he turned to the internet on his smart television.
"I assumed the number on the screen was a mobile number. It started off as a mistake," he said.
"But it all seemed to work out.
The home which supplied Maria - to which Mr Isaacs made a donation - has sent one of its staff out to Essex to help find her.
Diane Chapman, one of those searching for Maria, said they had spotted her in a field and were hoping to recover her shortly.