Met Police couple's wedding inspired by Carry On Doctors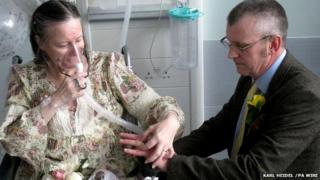 A policeman proposed to and married the love of his life within 24 hours of learning she was dying of cancer.
Mike Rowland proposed to Lynda on Thursday at the Princess Alexandra Hospital in Harlow.
The couple, both Metropolitan Police constables, married on a ward granted an emergency wedding licence.
The ceremony, inspired by the film Carry On Doctors, was attended by hospital staff, friends and family.
Mr Rowland, 51, said: "It wasn't how I imagined our big day but it was important to show Lynda how much I loved her and to share something special together."
Mrs Rowland, 49, formerly Francis, said: "I feel so happy, this is not something I ever expected and it means so much.
"When Mike told me how quickly it was going to happen, I just said 'crikey'."
'What really matters'
She was first diagnosed with breast cancer in 2011 and thought she had recovered after undergoing chemotherapy.
In March this year she began suffering a cough which was initially treated as a virus.
It later emerged the cancer had spread to her lungs and that her condition was inoperable.
"The doctors have not told us how long she has to live," Mr Rowland said.
"But it is now a matter of preserving her life and making sure she makes the most of the time she has left."
Mr Rowland said he was watching Carry On Doctors, which features a hospital wedding, when he had the idea.
He said: "We have been together for nearly ten years and have lived together for most of that.
"We have discussed marriage before but for one reason or another it never happened.
"Having this news has just focused our minds on what really matters to us."