Colchester death: Hazel Nutt shocked at arrest after bed fall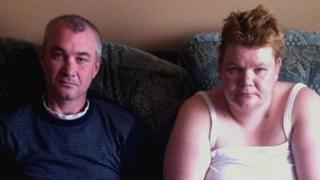 A woman has told of her shock at being held on suspicion of murder after her husband fell out of bed and died.
Chris Nutt, 43, was pronounced dead last Sunday at the home he shared with wife Hazel in Turner Road, Colchester.
On finding her husband dead on the bedroom floor, Mrs Nutt asked neighbour Terry Hurley to come and help.
Although Mrs Nutt and Mr Hurley were initially arrested, police later deemed the death not to be suspicious.
It is thought Mr Nutt had fallen out of bed and hit his head. He was found lying face down on the floor.
Mrs Nutt said she found her husband - whom she described as "loving when he was not drinking" - on the floor.
'Beggars belief'
"I shook his leg and there was nothing and he was stone cold. I knew that he had passed away," she said.
"I panicked, I did not know what to do."
Describing her feelings about being arrested when the police arrived, Mrs Nutt said: "It was absolutely awful.
"I just can't believe that the police would think I would do something like this."
Mr Hurley, a kitchen fitter, said he was staggered to be hand-cuffed by police when they arrived.
He said he did act aggressively towards officers when they said he was being arrested.
He said he was held for about 14 hours before he was released.
"I still cannot believe it. I find my friend dead and they walk up to me and place me in handcuffs, it beggars belief. It is inhumane."
Essex Police confirmed the death - although no exact cause had yet been found - was not being treated as suspicious.
"No further action will be taken," a spokeswoman said. "The case has been referred to the coroner."
She encouraged the pair to use the police complaints procedure if they felt aggrieved.