West Thurrock chemical blast heard in Essex and Kent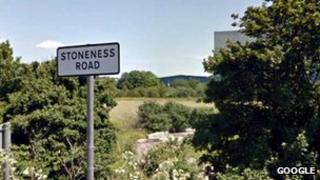 An "almighty bang" caused by a chemical factory explosion was heard by people living in south Essex and north Kent, it has emerged.
The explosion - which involved caustic soda - happened at Industrial Chemicals Ltd in West Thurrock, at 20:00 BST on Thursday.
As well as a loud bang, witnesses reported seeing a bright flash of light.
An investigation into what happened is now under way.
Eunice Flynn, who lives nearby, said: "There was an almighty bang, so much so we thought all our windows and our doors were coming open.
"We thought a lorry had maybe hit the side of one of the houses or central reservation in the road.
"All the neighbours came flying out of their houses. We went across the road and we could see the big plume of smoke going up."
Residents in the area were initially told to stay indoors and keep windows closed because the explosion happened in a chlorine scrubbing unit at the factory.
Later, it was determined there was no danger to the public.
Essex Fire and Rescue Service said the source of the explosion at the factory in Stoneness Road was a small tank of diluted caustic soda.