Colchester-based soldiers dismissed over sports drugs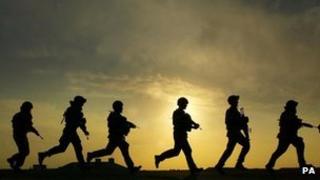 Eighteen soldiers have been dismissed from the Army for using banned body-building pills.
The men, from the Royal Horse Artillery, were reported to be among 400 tested on their return to barracks in Colchester after summer leave.
The soldiers were believed to have taken fat-burning pills as part of their fitness regimes.
The Army said a briefing note had been issued in June reminding personnel about the use of sports supplements.
Officials have not said which drugs were involved, but they were believed to be pills containing prohibited substances.
The soldiers, who were serving in 7 Parachute Regiment Royal Horse Artillery, were tested at Merville Barracks at the end of August.
There were no traces of illegal recreational drugs, such as heroin, cocaine, amphetamines and cannabis, which were also being routinely tested for.
An Army spokesman said: "Appropriate internal action will be taken against all 18 soldiers in line with the Ministry of Defence policy on drugs.
"An Army briefing note was issued on 7 June 2013 reminding personnel of the Army policy on the use of supplements."
The Army said it would not be releasing further details about the soldiers.