Annie Woodland wins landmark case over near drowning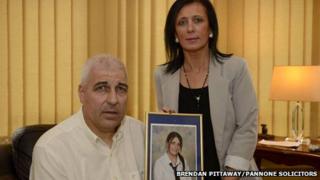 A woman who almost drowned in a school swimming lesson 13 years ago has won a landmark case at the Supreme Court.
Annie Woodland was a pupil at Whitmore Junior School in Basildon, Essex, when she had to be resuscitated in 2000. She suffered severe brain damage.
A claim for £3m damages was rejected in 2011 and that decision was upheld by the Court of Appeal last year.
The latest ruling now paves the way for her to pursue compensation from Essex County Council.
Her lawyers argue that the county council owed her a duty of care "in the capacity loco parentis" when Miss Woodland, then aged 10, took part in a school swimming lesson at a local pool.
The swimming teacher and lifeguard who, it is claimed, negligently failed to notice Miss Woodland had got into difficulties, were not employed by the county council.
'Chilling effect'
Lawyers for Miss Woodland, who is now in her early 20s and lives in Blackpool, argued that the school still owed her a duty of care, even when third parties were contracted to provide teaching.
When the case was dealt with in the Court of Appeal, Lord Justice Tomlinson said the imposition of a non-delegable duty of care on the council could have a chilling effect on the willingness of education authorities to provide valuable experiences for their pupils.
The issue before the Supreme Court justices at a hearing in July related to the criteria to be applied in "determining the circumstances in which a school's duty to its pupils under the National Curriculum can be delegated".
In his ruling released on Wednesday, Lord Sumption found that the local authority owed a "non-delegable duty of care".
"It is fair, just and reasonable to impose such duties," the ruling states.
"It is consistent with the long-standing policy of the law to protect those who are inherently vulnerable and subject to a significant degree of control.
"It is wholly reasonable that a school should be answerable for the performance of part of its own educational function.
"Parents are required by law to entrust their child to a school and have no knowledge or influence over the arrangements that the school may make to delegate specialised functions, or the competence of the delegates."
'Changed the law'
He concluded that if third parties were found to be negligent, Essex County Council would be in breach of a duty of care.
Lady Hale said the decision was a "development of the law" and avoided the "unsatisfactory possibility" that one child could sue but another could not.
An Essex County Council spokesperson said: "The Supreme Court has changed the law so that a public authority now has liability in certain circumstances for the negligence of its independent contractors where children or vulnerable people are involved."
"This overturned the earlier decisions of the High Court and the Court of Appeal.
"However, the question of whether Essex County Council is liable in this case remains to be decided and will be heard by the High Court next year."
Miss Woodland's mother, Alison Morris, said she was "greatly relieved that justice has been done".
She said: "It should never have come to this in the first place. No child should suffer in this way. This ruling will make such a difference to families in the future."
Miss Woodland's father Ian said: "It has caused enormous damage to our family.
"Up until this ruling, we had seen only injustice. How could the school not be responsible for our daughter during a National Curriculum lesson?
"I hope that, in the light of this judgment, no other family has to go through the same as we have done."