Clacton baby loss woman angered by Ryan Guntrip jail term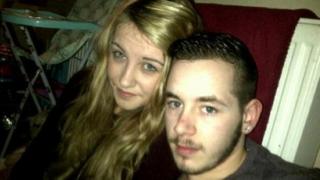 A woman who lost her unborn baby after an attack by her boyfriend has said his jail term of 16 weeks had made it more difficult for her to move on.
Carina Mackay, 20, was eight weeks pregnant when Ryan Guntrip, the father, punched her in the stomach.
In excruciating pain and bleeding, Miss Mackay, of Clacton, Essex, had a hospital scan two days later and was told her unborn baby had died.
Guntrip, 21, admitted assault by beating when he appeared at Colchester magistrates on Tuesday.
But, the court heard, the attack could not be linked to the death of the foetus and the judge was unable to sentence Guntrip on that basis.
"I want him to serve longer, it's ridiculous," Miss Mackay said.
"People get far longer sentences for something less severe than this.
"It's still affecting me, it's not something you can get over, and him getting just 16 weeks isn't making it easier."
'Petty arguments'
Guntrip, who has an "appalling record of violence", had been on licence from prison for attacking a former girlfriend when he got together with Miss MacKay in December 2012.
He punched her in the face in February but was "over the moon" when told she was expecting his child, she said.
In June, Miss Mackay wanted to end their relationship over concerns about his violence, his drinking and use of cocaine.
"We were having petty arguments all the time, it wasn't exactly healthy," she said.
"Just before he hit me he said 'I regret ever getting you pregnant'.
"I had sharp shooting pains and when I went to Clacton Hospital they arranged for a scan.
"I was expecting bad news - the bleeding wasn't exactly a good sign."
No medical link
When she sent Guntrip a text message after the scan, he replied only to say that he did not think they should be in contact.
"He didn't care. How could anyone be that heartless? It was his child."
Guntrip was also given a restraining not to contact Miss Mackay for five years.
In December 2011, he attacked his then girlfriend and a male friend.
The following March he was sentenced to two years in a young offenders' institution for two counts of causing actual bodily harm.
He had also attacked the same girlfriend a month earlier.
A spokesman for the Crown Prosecution Service said it had looked at charging Guntrip with a further offence in relation to the miscarriage but medical evidence did not prove it was linked to the assault.