Driver speeding at 130mph with hot drink between legs fined £1,000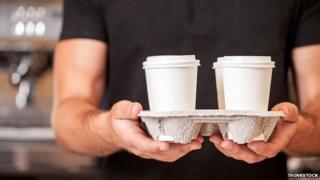 A motorist has been fined £1,000 for driving at up to 130mph (210km/h) with a hot drink balanced between his legs.
Andrew Howie, 35, of Tiptree, Essex, was spotted driving his Mercedes Benz on the A120 at Braintree on 27 May.
When police stopped him they discovered the takeaway drink between his legs.
At Colchester Magistrates' Court Howie admitted a charge of driving without due care and attention. Seven points added to his licence resulted in him receiving a six-month driving ban.
Howie was also ordered to pay costs of £90 and a victim surcharge of £100.