Essex County Council highways boss Rodney Bass lodged road claim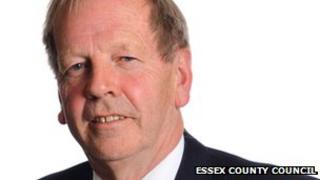 A highways boss lodged a claim against his own council after his car was damaged on a road "defect", it has emerged.
Rodney Bass, the councillor in charge of highways at Essex County Council, said some of the county's roads were in a "dreadful" state.
Speaking to BBC Essex, he went on to reveal he had damaged his own vehicle on what he called a "serious" defect.
He said his compensation claim for the damage was turned down.
Mr Bass was responding to criticisms about the way the county council deals with pot holes and other problems with the 5,000 miles of roads that cross-cross Essex.
'Investigated fully'
"I do have every sympathy with people who suffer damage or injury as a consequence of any problems on the road," said Mr Bass.
"It is unacceptable that that should be the case. I feel that very deeply.
"I have damaged my own vehicle, and I've actually tried to get reimbursement, and failed to get reimbursement for my own vehicle on a serious defect."
Mr Bass is yet to state when and where the damage was caused or how much compensation he sought from the council.
A spokeswoman for Essex County Council said: "We will not comment on the specific details of individual claims for compensation.
"All compensation claims received by Essex County Council are investigated fully and costs are only paid if the council feels they would be held liable in court for having breached their statutory duties as the highways authority to maintain the highway."