Essex Network Rail level crossing improvement programme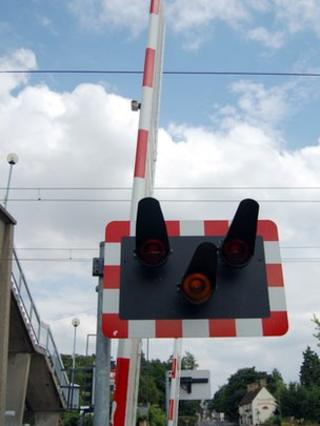 Six level crossings in Essex regarded as high risk are to be replaced as Network Rail carries out improvements.
Crossings at Motts Lane in Witham; Long Green in Marks Tey; Shaw Avenue in Shenfield; West Park Avenue in Billericay; Golf Links in Chelmsford; and Ingatestone Hall will change.
Either a footbridge or underpass will be installed for the public to cross the railways safely.
Network Rail is closing 93 other level crossings in the Anglia region.
Richard Schofield, route managing director at Network Rail, said: "Where a road, footpath or cycleway meets the railway there will always be a certain level of risk to motorists or pedestrians.
Work under way
"By working closely with local authority partners, the new, modern alternative crossings at each of these Essex level crossings will provide the public with a much safer route across the railway."
Motts Lane crossing will be replaced with a ramped bridleway bridge. Work began in September, with the bridge deck due to be lifted into place over the Christmas period. The £2.3m scheme, which has received a £500,000 contribution from Braintree District Council, will be completed and open to the public by March 2014.
Long Green crossing will be replaced by a ramped footbridge. Shaw Avenue, Billericay West Park Avenue and Golf Links level crossings will be replaced with stepped footbridges.
There have been five incidents of misuse and one near-miss since 2007 at Shaw Avenue level crossing in Shenfield which is set to be closed from February 2014.
Work to close Golf Links level crossing will begin in November and is due for completion in March 2014. A new pedestrian underpass will replace Ingatestone Hall level crossing at the same time.