Essex girl wakes to find fox on her bed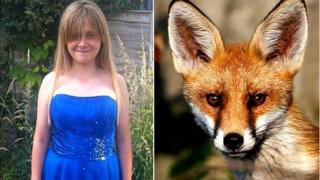 An 11-year-old girl awoke in the middle of the night to find a fox asleep on her bed.
Jessica Lambert, who was in her downstairs bedroom, stroked the animal before going to her parents' room to tell them about the visitor.
Her father, Simon, went downstairs to find the fox cowering in the pantry of their West Mersea home in Essex.
Her mother Charlotte said: "It's scary. If it had woken my other children they would have screamed."
'Loves animals'
The fox got into the house via the cat-flap at about 01:00 GMT on Tuesday and went unnoticed at first by Roxy, the family's Yorkshire terrier/Jack Russell cross.
"Jessica came in and said there was a fox in her bed," said Mrs Lambert, who runs Island Paddle Boarding with her husband. "She said she had been stroking it.
"Jessica absolutely loves animals. We thought she was dreaming.
"My husband managed to get it out of the house. Jessica was so pleased that she managed to stroke it."
The family said a number of people on the island left food out for foxes and it is thought that has made them less afraid of humans.
RSPCA spokeswoman Klare Kennett said: "It is unusual for foxes to come into houses as they are generally shy creatures and avoid human contact.
"Like most wild animals, they are attracted by food and that is usually the lure - pet food left out in bowls for instance.
"The advice to anyone finding any wild animal in their house is to open the doors and gently chase the animal out into the garden."