Sir Bob Russell's Colchester town tour is eBay flop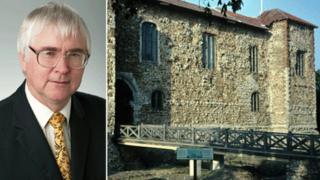 A walking tour of Britain's oldest recorded town hosted by its MP has failed to attract any bids in an online auction.
The two-hour tour of Colchester, Essex, was due to be conducted by Liberal Democrat Sir Bob Russell and visit "significant places" in his life.
It was offered on eBay with a starting price of £40 but received no bids.
Sir Bob, who has represented Colchester since 1997 and was knighted last year, could not be reached for comment.
The tour was billed as a "Rome around Colchester", which was the site of a Roman fortress and known as Camulodunum.
Colchester was first mentioned by Roman author Pliny the Elder, who died in 79 AD.
The tour was for one or two people and was to include high tea in the Castle Park Cafe.
It was offered by East of England Liberal Democrats.
The only lot it has sold so far was a tour of St Albans Abbey conducted by Sandy Walkington, Liberal Democrat prospective parliamentary candidate for St Albans.
It sold for £20, with the winning bidder rating the tour as "very good".