Basildon Hospital improving, CQC inspectors say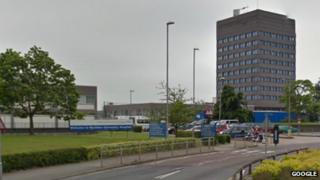 Basildon Hospital has been taken out of enforcement action after inspectors found it is improving.
The hospital has been under the spotlight for more than a year following a series of damning reports.
Inspectors from the Care Quality Commission found it was making good progress since the Keogh Review into high death rates.
There were still "minor" breaches of two essential standards, but inspectors said the impact was minor.
The hospital remains on special measures from another regulator, Monitor.
'Impressive work'
CQC inspectors, who spent two days at the NHS Trust in Basildon, found cardiac and children's services had improved.
An impressive amount of work had been done since warning notices were issued, their report said.
Failings have been addressed and complaints are being properly investigated, the CQC said.
However, some care plans for terminal patients were not being completed, and there was a shortage of administration staff in the department that collects data and the hospital has been told to make improvements.
'Different place'
Inspectors found the cardio-thoracic department was very good and safe.
However "some inter-personal relationships between certain groups of cardiac surgeons are poor, which interferes with the running of the unit".
The report found most patients were happy, particularly with the nursing staff, and one told inspectors it felt like a "different place".
However, some patients felt the wards were at times understaffed.
The NHS trust has welcomed the improvements, which are part of a longer term recovery plan.
A review of Basildon was conducted by NHS medical director Professor Sir Bruce Keogh and followed the inquiry into hundreds of deaths at Mid Staffordshire NHS Trust.
Basildon Hospital had 3,186 deaths between April 2010 and April 2012.
In the two years to October 2012, there were 544 more deaths than expected.