Sir Bob Russell MP still offering Colchester tour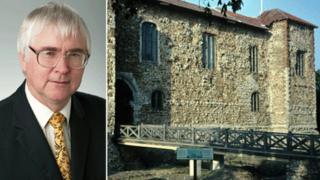 An MP whose tour of Britain's oldest recorded town failed to win any bids in an online auction says he is "far from red faced".
The two-hour tour of Colchester, Essex, is still being offered by Liberal Democrat Sir Bob Russell despite being an eBay flop.
The tour, he said, includes a visit to the spot where Sir Bob broke his arm, at the age of 14.
Sir Bob said a number of people have now offered the £40 fee for a tour.
The tour - called a "Rome around Colchester", in reference to the town being a Roman fortress and known as Camulodunum - was put up for auction to raise money for the East of England Liberal Democrats.
Sir Bob, who has represented Colchester since 1997 and was knighted last year, said: "Far from being red-faced I am mildly amused and delighted with all the publicity and as a consequence more money is going to be raised."
Asked why somebody might want to spend £40 on a town walking tour, Sir Bob said: "It is the chance of a lifetime to tour Britain's first city."
He added one of the spots he would show people was the site of a traffic accident where he, on his bike, he was in collision with a lorry, and broke his arm.
Sir Bob said he will be taking those who have expressed an interest on the tour.