Plan to close the Deanes School in Essex is approved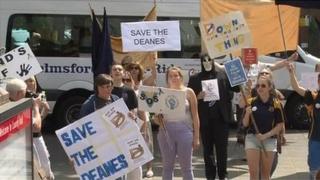 A school deemed unviable is to be closed despite a campaign to keep it open by parents.
Essex County Council said the Deanes School in Thundersley had 600 pupils and 418 spare places.
The Conservative-run council had previously decided to close the school but that decision had to be reconsidered after it was challenged.
The council's cabinet has again decided to shut the school despite vocal objections from some councillors.
A council report said closing the school would cost up to £6.87m and the cost of replacing it with a smaller school would cost £10.5m.
Parents opposing the plans pointed to the school's good rating from the education watchdog Ofsted.
But the report says that despite a good Ofsted rating, parents are preferring to send their children to The Appleton School and The King John School, which received outstanding Ofsted reports.