Frinton wire trap warning from Tendring Council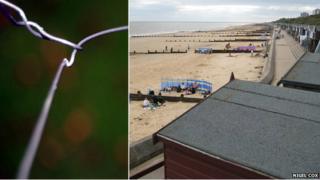 A seaside resort's promenades have been combed for "dangerous" wire traps after a man was thrown from his wheelchair twice in a week.
Staff from Tendring District Council investigating the latest case found a wire line stretched across Frinton's Lower Promenade.
Police believe the traps were set up to knock cyclists off their bikes.
Nick Turner, the council's cabinet member for environment, said: "It just beggars belief."
The man knocked out of his wheelchair was training for a triathlon and travelling at speed at the time, the council said.
The second incident happened on 20 November.
"I find it extremely hard to believe anyone would be so irresponsible and put people's lives at risk in this way," said Mr Turner.
The council said it will continue to check the area for wire traps.