Thorpe Bay car fire: Mother 'may have killed son'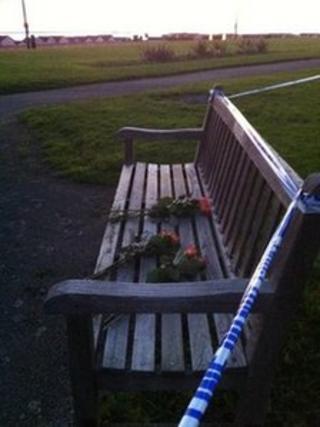 Detectives are investigating the possibility a mother may have killed her teenage son before taking her own life in a car fire.
Two bodies, believed to be Catherine Mhlaba, 45, and her son Beki Ali, 16, were found in a burning car at Thorpe Bay, near Southend, Essex, on Tuesday.
Fire crews were called to the blaze, started in what was thought to have been a black Vauxhall Vectra.
Formal identification of the bodies could "take some weeks", police said.
Barbara Herve, who lives opposite the site where the car was on fire, said: "The flames were at least 10ft high and coming out either side.
"You could see right into it through the flames but you couldn't see if anybody was there."
Neighbour David Jones added his wife thought there had been an explosion.
He said: "She said it shook the house, by the time she got to the window the car was engulfed in flames."
Police are appealing for witnesses.