Essex school's time capsule found after two-month search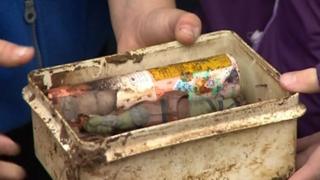 A school has finally found a time capsule buried in its garden 25 years ago, just inches away from where it was thought to have been originally placed.
The plastic ice-cream tub was put in the ground at Writtle Junior School, near Chelmsford, Essex, in 1988.
But no-one could find it in time for it to be reopened for the school's 50th anniversary two months ago.
Deputy head teacher Sue Evans said she was "thrilled" it had been discovered using a "powerful" metal detector.
The search for the box had to be called off due to fears the school garden could be destroyed.
But several pupils contacted the school with information.
'Absolutely thrilled'
With the help of David Stock, from history group Heritage Writtle, the capsule was located after just five minutes in a search using a metal detector.
Coins packed in the container set off the machine's signal.
"I'm really pleased to have been part of this and to help the school and obviously the village," said Mr Stock.
It is thought a concrete slab placed on top of the spot was removed and put elsewhere, foiling the original search.
Mrs Evans said: "We're absolutely thrilled because all the children were quite disappointed when we were celebrating our 50th anniversary that we hadn't found the time capsule.
"The time capsule actually was where we thought it should be, just a few centimetres away from where we dug previously.
"It's quite fascinating and the children have been inquisitive about what has been put in there.
"Now we can have a look at the contents and pack them away and rebury them in a new time capsule, hopefully to be opened in the next 25 years."
The time capsule contains a newspaper, toys, stamps, coins and a tube of toothpaste.