Essex law firm investigated over £3m stamp duty allegations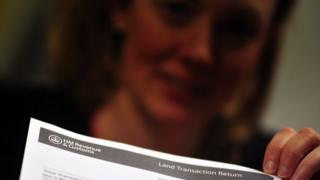 A law firm has closed amid allegations that £3m in customer stamp duty was not passed on to the government.
HM Revenue and Customs is investigating Reeve, Fisher and Sands, which had offices in Brentwood, Billericay and Hornchurch.
The industry regulator the Council for Licensed Conveyancers (CLC) is also investigating and urged those affected to get in contact.
Reeve, Fisher and Sands has declined to comment.
The CLC said it was trying to "minimise disruption" to affected customers.
'Demands for payment'
Those customers, it said, were protected and would not have to make the duty payments themselves.
Although an exact sum for the amount is not known, it is thought the firm owes about £3m in unpaid duty.
Stephen Ward, of the CLC, said: "It appears that some payments of Stamp Duty Land Tax (SDLT) should have been made by Reeves Fisher and Sands on behalf of the client, but were not in fact made.
"The CLC is working with HMRC to find out where this has happened, and to try to ensure that demands for payment of SDLT do not continue to be made when that tax should already have been paid by Reeves Fisher and Sands."
Customers who have already received letters from the HMRC demanding payment of their stamp duty are advised to contact the CLC.
The HMRC said it would not comment on individual cases.