Great Notley's CD duck tracked by Essex RSPCA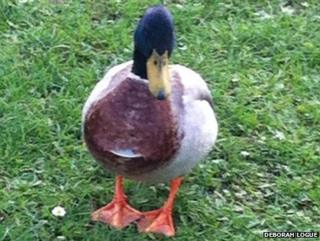 A duck with a CD stuck around its neck is being tracked by the Essex RSPCA - though it does not appear to be in a flap.
The duck is a regular at the village pond in Great Notley, near Braintree.
Residents fear for the welfare of the mallard, which is thought to have become trapped in the discarded disc while rummaging for food as a duckling.
Parents and children who walk past the pond to Notley Primary School have given the bird a nickname: CD Duck.
Karen Underhill, one of the village parents, said: "We feel quite protective about him. He doesn't look uncomfortable, he's just got a ridge."
The RSPCA said its officers had been to see CD Duck but had so far been unable to catch him.
The charity said unless the duck showed clear signs of distress, its inspectors would prioritise other cases in which animals needed urgent help.