Colchester Hospital: Acting chief executive resigns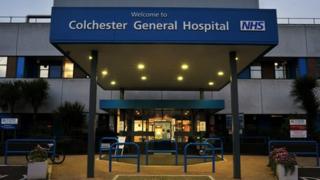 The acting chief executive of a hospital at the centre of a police investigation has resigned.
The police inquiry at Colchester Hospital started after the Care Quality Commission (CQC) found staff were "pressured or bullied" to change data.
A subsequent NHS England investigation found "serious failings in cancer services".
Sue Barnett, who stepped up when chief executive Dr Gordon Coutts resigned, will leave in mid-March.
The trust announced it was appointing Kim Hodgson as its interim chief executive.
Ms Barnett, former deputy chief executive, said: "Now that Kim Hodgson has been appointed and solid transition arrangements can be confirmed, I feel able to explore new opportunities for myself outside of the trust."
'Patient focus'
The hospital said Ms Barnett had "planned for some time to return to the interim market to pursue other challenging opportunities with the NHS".
Dr Coutts resigned in December, the day before NHS England published its report which raised concerns about "unsafe information", "unsustainable levels of staffing in key services" and a "lack of confidence among staff" that "concerns would be listened to".
Ms Hodgson, a previous chief executive at at East Sussex Hospitals Trust, said: "I am delighted to have been asked to lead the trust and I look forward to working with staff and to meeting some of our patients.
"From what I have seen and heard already, there is a strong patient focus across both hospitals and I am confident that we can rise to the challenges that we face."
Health regulator Monitor will soon announce who it has chosen to be the improvement director for the hospital.
The incumbent will be charged with making sure the necessary action is taken to achieve the improvements Monitor has identified.
The police looked at the CQC's data before deciding the matter warranted a formal criminal investigation.