Police say ambulance service putting demand on its resources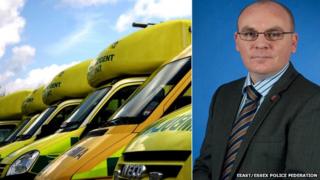 Police in Essex have had to take patients to hospital when ambulances fail to show up more than 180 times in the past year, it has emerged.
When BBC News revealed police concerns about ambulance delays a year ago, police and the ambulance service said they did not record such incidents.
But figures obtained by the BBC show in 2013 Essex Police took 185 patients to hospital.
The East of England Ambulance Service said it needed more staff.
The worst month last year was March, when 22 patients were conveyed to hospital because of "excessive ambulance delays" or "no shows". In July, there were 20 such occasions and 21 in October.
The figures also show there were 121 incidents recorded as "excessive delays" in ambulances arriving at emergency incidents and 83 episodes classed as "inappropriate ambulance requests" of the police force.
Inappropriate requests, said Mark Smith, chairman of the Essex Police Federation, included the ambulance service calling the police with concerns about a violent person at the scene of an emergency.
'It's embarrassing'
But when police arrive, said Mr Smith, this is occasionally not the case and the police were not needed.
"This has been going on for more than a year now and those who can change it, haven't.
"We are talking about people who really need to go to hospital, such as those involved in very serious road traffic accidents."
He said he was "concerned" at the situation because officers were not only unable to do their policing duties when taking people to hospital but were ill-equipped to step in for paramedics.
He stressed he did not blame the front-line paramedics for the problem.
Tony Hughes, the GMB ambulance organiser for the eastern region, said: "We have heard about it and are obviously concerned, because the police aren't there to deal with those types of injuries and conditions.
"Our members don't tell us about it that often because it's embarrassing for them, having to rely on police officers.
"The police are there to do a totally different job. In the East of England Ambulance Service there just aren't enough staff to keep up with the demand that's there."
'Going to take time'
A spokesman for Essex Police said the force was "concerned" at the "increasing demand moving from the ambulance service onto police resources".
He said: "We monitor incidents of this nature closely and it is correct to say that incidents have increased slightly over the past 12 months."
A spokesman for the ambulance service said: "We recognise we do not currently have sufficient ambulances to respond to all emergency calls as quickly as we need to.
"Be assured that our staff are already working as hard has as they can, but we simply need more of them in order to improve our response times.
"It continues to be the case that we do not record the number of times when we are 'stood down' from an incident by other 999 colleagues on scene, which is when we are dealing with the call but are told we are no longer required. Instead, when this has happened, it is noted within the incident record."
The service said regular meetings were held with police and the fire service.
"As our new chief executive Anthony Marsh has made clear," the spokesman said, "priorities will focus on increasing front-line staffing on ambulances by recruiting student paramedics, qualified paramedics and technicians, and graduate paramedics.
"That is going to take time, but the process has already started."