Woman guilty of attacking Ground Force star's daughter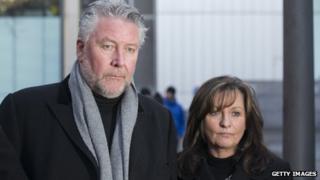 A mother of two has been convicted of wounding the daughter of Ground Force presenter Tommy Walsh in a nightclub.
Leanne Bloomfield, 28, from Colchester, denied using a glass shard to slash Natalie Walsh across her neck during the assault at Cafe De Paris in London last February.
But following a four-day trial, a jury at Southwark Crown Court found her guilty of wounding with intent.
Afterwards, Mr Walsh said: "There are no winners in this."
The celebrity builder, who found fame in the BBC gardening show, said his 22-year-old daughter, who was not in court, had undergone plastic surgery and deferred her final medical exams after the attack but had gone on to achieve a first-class degree.
"It was really tough but we are a really close-knit family," Mr Walsh said.
"She [Bloomfield] has two children. You should think about your behaviour before you go and behave drunkenly or laddishly."
When the verdict was read out, Bloomfield turned to the jury and said: "I didn't do it", before breaking down in tears.
As she continued to protest her innocence, Judge Peter Susman QC told the defendant to "be quiet".
He adjourned sentencing to 7 February, adding: "You must make arrangements for your children's welfare on the basis you are going to prison."