Scope care home closure proposals anger Essex families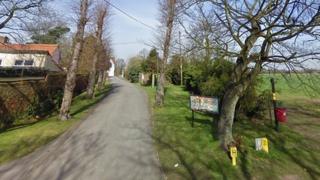 Plans to close two "old fashioned" care homes in Essex that look after more than 70 disabled adults have angered the families of residents.
The charity Scope, which supports disabled people, has proposed to close the properties near Colchester in favour of independent housing.
Peter Walker from Scope said disabled people should have more "choice and control" over their lives.
Campaigners against the proposals met with Scope on Wednesday.
The proposals, announced in September, are to close the Drummonds care home, Feering, and Wakes Hall in Wakes Colne.
Mr Walker said he understood the proposals will have "caused a lot of concern for residents and their families" by Scope is "committed to supporting each person who lives at these services to understand what it means".
He added: "More and more disabled people are choosing where they live, they are choosing who they live with, how they are supported by staff - and they are using personal budgets to pay for the things that they want.
"Many of our care homes were opened in the 1970s, and we don't think these services offer disabled people enough choice over how they live."
'Imprisoned' at home
Frank Lindsell, whose daughter is a resident at Drummonds, told the BBC: "We do not deny facilities like Drummonds need modernising, but the core community experience there is second-to-none and just cannot be replicated in the wider community.
"Some of these people are so vulnerable that while living in the community would give them an independent postcode they'll just be imprisoned in their own home.
"We're campaigning to overturn the view that independent living is right for everybody.
"It's great to say everybody has the right to live independently, but there are just not the properties and ancillary services to support that."
More than 300 people have signed an online petition to re-develop, rather than close, the Drummonds care home.
No decision on the Drummonds or Wakes Hall properties will be made until 2016.