Lee Balkwell concrete mixer death: Magistrates sent letters by father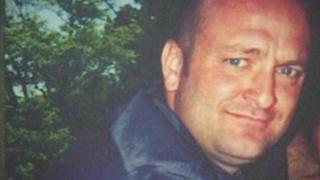 Magistrates have been told to destroy letters they get from a man whose son's body was found in a cement mixer.
Lee Balkwell, 33, was found dead at Baldwin's Farm, where he worked near Upminster.
Simon Bromley, 44, of Upminster, is charged with manslaughter and will appear before Basildon magistrates at the end of the month.
Mr Balkwell's father Les has written to a number of magistrates at their home addresses about the charge.
An email seen by the BBC from the Justice's Clerk for Cambridgeshire and Essex asks magistrates not to communicate directly with Les Balkwell.
It tells the justices it is never appropriate for them to deal privately in relation to court cases.
Trapped and died
Chairman of the Essex Magistrates' Association, Nigel Le Gresley, said he had never previously heard of a victim's relative contacting magistrates in this way.
An inquest into the death of Lee Balkwell heard he had been working in a lorry which had broken down.
He was using a drill to try to remove the concrete inside, when he became trapped and died.
Mr Bromley has also been charged with an offence under the Health and Safety at Work Act.
That charge accuses Mr Bromley of being an employer who "failed to discharge his duty in that he failed to ensure the health and safety at work of employee Mr Balkwell, in relation to to the risks arising from the gunning out of the inside of a Hyamix concrete mixer".