Braintree Community Hospital's future feared as Serco cuts contract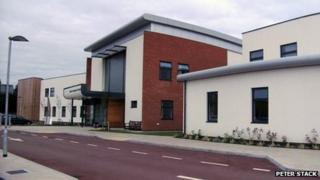 A private company's decision to end an NHS management contract early could threaten the future of an Essex hospital, users have said.
Serco took over at Braintree Community Hospital in 2011 but in December announced it was ending its contract this December, three months early.
The company said not enough patients were using the facility.
Braintree Pensioners' Action Group has called for the NHS to take over services again to "secure its future".
Members of Mid Essex Clinical Commissioning Group (CCG), which awarded the contract to Serco, attended the pensioner group's meeting on Tuesday evening to hear their concerns.
'Limited opportunities'
These include the withdrawal of some services or the possibility the hospital may become a private medical centre once Serco withdraws.
Don Challen, a member of the pensioner group, said: "The CCG has told us it is committed to the future of the hospital, but has not been able to say what might happen come December.
"I've always believed the NHS is there for the health of the people, not for the profit of the companies concerned."
In a statement, Serco said: "Since taking over operations in 2011, the predicted level of patient referrals to the hospital has not materialised and Serco's opportunities to improve usage of the hospital are limited."
Dr Bryan Spencer, vice-chairman of the CCG, said: "At the end of the day it is a patient's choice about where they have their treatment.
"As it's turned out, Braintree is not being used quite as often as we would like, but we think we can change that and move on."
The Serco spokesman said the company was also "committed to maintaining such high levels of care and wants to ensure that continues when Serco hands over to another organisation at the end of November."