Essex floods hit 20 flats and residents rescued by boat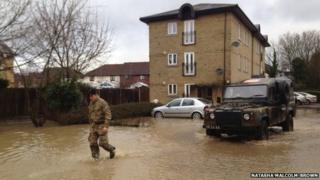 Thousands of pupils were sent home and residents rescued by boat after heavy rain in Essex caused flooding.
The occupants of 20 flats in Radwinter Road, Saffron Walden, were helped to safety by fire crews.
The service received more than 200 calls about flooding from people in the north and west of the county.
Flood warnings for five rivers - the Stour, Brook, Chelmer, Colne and Box were issued by the Environment Agency.
Amanda Jane Richards, of Saffron Walden, said: "The flooding here is really bad considering we are so inland.
"You'd expect it in Cornwall and places on the coast but not here in Essex.
"All the fields are under water - I feel so sorry for the farmers.
"A lot of the roads are so badly flooded they are shut, so basically we can't get out of the village."
A number of schools were closed because of flooding including Weathersfield Church of England Primary, Clavering Primary School near Saffron Walden, Newport Free Grammar, Newport Primary and the 2,000-pupil Saffron Walden County High School.
Soldiers from Carver Barracks at Wimbish were sandbagging properties affected by flooding just outside Saffron Walden.
Jim Ketteridge, leader of the Conservative-controlled Uttlesford District Council, said: "This is an extreme case of flooding in our district and we want to urge residents to take extra care during this time."
The authority said in "preparation for the potential of further flooding over the weekend" it would be checking culverts in the area and removing any debris it finds.
A spokesman for the police said "many minor roads and some major routes" had been affected by high water and urged drivers to avoid using such roads "whenever possible".
A fire service spokesman said its crews had rescued a number of people trapped by flooding, pumped water from flooded homes and rescued motorists trapped in flood water.
The areas affected were in been in the north west of the county and crews had been to incidents in Saffron Walden, Newport, Wendens Ambo, Debden, Stansted, Arkesden, Ashdon, Quendon and Henham.