Colchester Hospital chief 'to get grip' after cancer scandal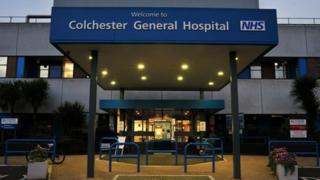 The interim head of a hospital says she will focus on getting a "grip" on its problems after staff said they were bullied into falsifying patient data.
A police inquiry began at Colchester Hospital after a health watchdog found "inaccuracies" with waiting time data relating to cancer treatment.
Seven whistle-blowing investigations are currently under way at the hospital, the the BBC has learned.
Chief executive Kim Hodgson said she would focus on making improvements.
Ms Hodgson, who takes over from Sue Barnett, is due to present her plans to the hospital board on Thursday.
'Pressured or bullied'
Essex Police is investigating whether the findings by the Care Quality Commission (CQC) amount to a criminal offence after the watchdog said patients' lives may have been put at risk.
The CQC report, published in November, said staff told inspectors they were "pressured or bullied" to change data relating to patients and their treatment in order to make it seem people were being treated in line with national guidelines.
The hospital has since been placed in special measures.
An anonymous hotline for staff at the hospital was set up in April after the trust's death rates were found to be among the worst in the country.
Since then, nine whistle-blowers have come forward.
One whistle-blowing investigation has prompted a proposal to the board for extra staff.
'Restore confidence'
A Freedom of Information request by the BBC has also revealed that three members of staff at the trust have resigned or been dismissed in the last four years "for disciplinary procedures relating to conflict, harassment, bullying or coercion".
Two further disciplinary hearings are pending.
Ms Hodgson's report to the NHS trust board said the hospital faced "significant challenges across all areas to improve patient care and restore the confidence of the local community".
She said the hospital had already made progress, and there was now "clarity" regarding responsibilities in respect of the cancer and Keogh review action plans.
She added that the hospital had also undertaken a "focused review" of complaints and its response to serious incidents.
The findings of an independent internal review into the cancer scandal are expected to be known in the next few weeks.