Former Dale Farm mother wins appeal over planning decision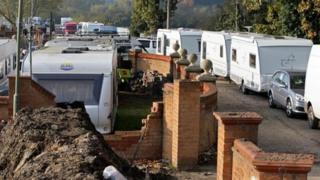 A mother and daughter evicted from the Dale Farm site in Essex, have won a High Court fight for a review of plans to evict them from a new pitch nearby.
Mary Flynn moved to a track near Dale Farm in November 2011, a month after the site was cleared of travellers in an operation costing £7.2m.
The planning inspectorate rejected her appeal against a Basildon Council plan to evict them.
But the High Court has now ruled the Inspectorate must review the case.
The pair were served with enforcement notices by Basildon District Council in July 2012.
They were accused of breaching planning controls by stationing residential caravans without gaining permission for "a material change of use" of the land.
Mrs Flynn lodged an appeal, but the local government planning inspectorate decided in September 2012 her appeal was not valid because she did not have a legal interest in the land or a licence from the landowner to occupy it.
Mr Justice Lewis, sitting at London's High Court, ruled the inspectorate had "erred in law" because it failed to consider whether or not Mrs Flynn had "an implied licence" to occupy the land at the relevant time.
The judge said: "In my judgment, given the length of time that Mrs Flynn had been on the land, and given the fact that it was being said that the owners had not asked them to leave and were content with their occupation, the possibility of an implied licence was in issue."
He said the inspectorate should now be allowed to consider whether in fact Mrs Flynn had an implied licence at the time the enforcement notice was served.
Tony Ball, leader of Basildon Council, said: "This is a hugely disappointing decision and will create further delays and public expenditure. I think that many residents will share our frustrations."