Colchester Hospital faces CQC enforcement action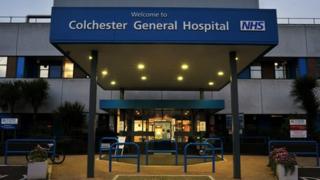 Enforcement action is being taken against Colchester Hospital after inspectors found three patients put at risk of "serious harm".
The hospital is already at the centre of a police inquiry over alleged cancer waiting time "inaccuracies".
In its latest report on the hospital, the Care Quality Commission (CQC) said it found three patients who had waited more than 100 days for treatment.
The hospital said it had "a detailed plan" for improvement.
The CQC report, which is based on inspections carried out in August and September last year, said the trust had "failed to identify" the three patients with a longer than 100-day wait and said "these people were placed at significant risk of harm through extensive treatment delays".
'Extremely helpful'
The report said three members of staff told inspectors "they felt they had been pressured, bullied or harassed to change the data" to prevent a breach in cancer treatment figures.
"We found no evidence for these examples that the appropriate action was taken in respect of the management of bullying and harassment of staff," the CQC report said.
Overall, the CQC found action was needed in terms of patient records and the care and welfare of people using its services.
Enforcement action has been taken over the assessment and monitoring of service provision. Details of what that action will entail, however, have not been stated but could involve warning notices, fines or prosecution.
A hospital spokesman said the original CQC was published last November "and nine days later we were put into special measures by health sector regulator Monitor, on the recommendation of the CQC.
"As a consequence of this, we have developed a comprehensive cancer action plan to improve our cancer services, which has been approved by Monitor."
The hospital is receiving support from the Royal Marsden which, it says, is proving "extremely helpful".