Essex treasure to go on display after £60,000 raised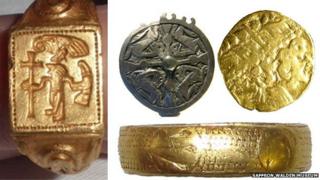 A "remarkable" 1,400-year-old gold ring and other treasures found in north Essex can go on display after a museum raised £60,000 in grants and donations.
The Saffron Walden Museum Society Ltd said the Anglo-Saxon ring is engraved with Christian and pagan symbols and had "really excited the experts".
The finds, made by metal detector enthusiasts since 2011, were declared treasure after their discovery.
They will be permanently exhibited at the museum from 5 April.
'Best find ever"
The chairman of the Saffron Walden Museum Society Ltd, Tony Watson, said the ring was a "remarkable find".
It has been dated to between 580 and 650 AD and was discovered by Tony Carter, who described it as "his best find ever, in 41 years of metal detecting".
The purchase of the treasure was made possible by grants from bodies including the Victoria & Albert Purchase Grant Fund, the Art Fund and the Essex Heritage Fund.
Money was also raised by local donors.
The other objects include two 1st Century BC gold coins, which are the earliest ever found in the district, and two silver Anglo-Saxon objects from the 9th Century AD.
The fifth item is a gold ring engraved with the symbols of Christ's passion.
Museum curator Carolyn Wingfield said: "It was probably a statement of personal Catholic faith, at a time when you'd be persecuted for membership of the church."
She added: "The new display not only allows people to enjoy these archaeological treasures, but also shows what a significant impact metal detector finds, the Portable Antiquities Scheme and the Treasure Act have had on archaeology in recent years."