Richie Robins: Model comeback for 'battered' goalkeeper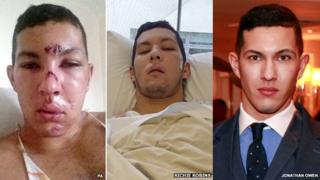 A non-league footballer who underwent reconstructive facial surgery after being kicked and beaten on a night out has made his professional catwalk debut.
Richie Robins, 21, was on a night out in Colchester when he was set upon by six men in the early hours of 21 December after he stepped in to protect a female friend.
"I hit my head really hard and went dizzy, then I blacked out for a second," he said. "I knew I was in trouble and was just hoping it wouldn't get any worse."
As he lay prostrate on the floor, the attack continued. The beating left him severely injured and he still suffers nightmares.
The timing of the attack was particularly cruel - weeks earlier he had appeared in a fashion show and been approached by an agency about a possible modelling career. But he feared this opportunity was now lost following the attack.
Following NHS surgery in January to put his cheekbone and eye socket back into place he had to avoid any physical activity for three months.
"For the first three months the nerves is my face were so damaged any quick kind of movement felt like I'd got a bag of Lego bricks in my face all jumbling around - it was really painful," he said.
Then, out of the blue, he received a text message inviting him to appear in a fashion show in Mayfair, central London.
Michelle Court, founder of creative agency Court On Camera, had headhunted him after seeing him at the December show.
"The moment I met him I thought he's beautiful," she said. "It's not just his looks, amazing cheekbones, eyes and great smile - he also has a great personality and walks well on stage.
"He's also down to earth and humble, something I don't often see in models and is really appreciating this opportunity - he's going to have a really good career."
"When I got the text asking me to be in the Mayfair show I couldn't believe it, my heart stopped for a second," Mr Robins remembers.
"The people who contacted me weren't aware that I'd been beaten up so had to explain that my face was different, but after sending them some photos they were still happy for me to work with them so I was over the moon."
Memories of the December attack still haunt Mr Robins with nightmares of "a large group of boys beating me" frequently waking up him in a cold sweat.
"Although my face is more or less the same it's still slightly swollen - if I look in mirrors or see photos I really hate myself and wish I'd never been beaten up as I feel I look so different," he said.
"At first the attack really upset me but at the same time I was thankful I was still here as it could have been so much worse. I could easily have been paralysed or killed.
"The catwalk show has given me a massive confidence boost and made me really happy."
Police are still investigating the attack and two men are on bail until 8 May.
His teammates at Wivenhoe Town - where he played in goal - have offered him emotional and financial support while he was recovering as he was unable to work.
But now the former Colchester United youth player, who had been offered a pre-season opportunity with West Ham United, is eyeing a modelling rather than footballing career.