Student 'forced to kill' his mother in Essex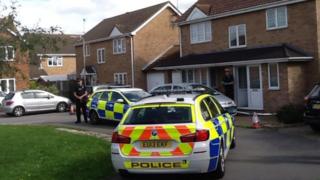 A biochemistry student who is accused of murdering his mother has told a jury a gang of five men forced him to kill her.
Tolu Kalejaiye, 44, of Wethersfield Way, Wickford, Essex, was stabbed at her home in September last year.
Emmanual Kalejaiye, 21, of the same address, denies stabbing his mother to death.
He told Chelmsford Crown Court intruders came into his home, put a bag over his head and a knife in his hand.
They then forced him to stab his mother, Mr Kalejaiye said.
'Covered her body'
He added that he was then forced to get into his mother's car and drive around wearing a pink tracksuit.
The prosecution alleges he was wearing the tracksuit to make him look like her.
Once he returned home, he told the court he covered up his mother's body with a black coat.
"After I realised the intruders had left the house I went upstairs - I did suspect due to blood loss she was probably deceased, but just in case she might be alive I checked for a pulse," he said.
"I concluded she had gone and as some sort of sign of respect I covered her body."
He told the court he was paranoid about the police and the government and he did what the men told him to do to protect his family.
Earlier the court heard Ms Kalejaiye's relationship with her two sons described as "broken".
The court heard that Mr Kalejaiye gave the police a statement admitting the killing of his mother.
He told police he had been depressed for a long time, but he said he committed the killing to protect the rest of his family.
The trial continues.