Colchester homes evacuated due to old garrison fire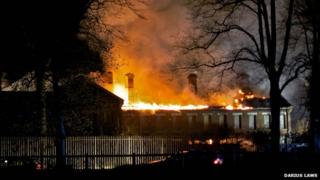 Thirty homes were evacuated in Colchester during a fire at the old military garrison.
Seven crews fought the fire, which had engulfed a former stable block in Roman Circus Walk, off Butt Road just after midnight.
The site is being converted into housing.
Assistant divisional officer Paul Gardner said the blaze was "raging" in the ground floor when crews arrived. The fire was extinguished by 04:45 BST.
Two crews were expected to remain on site on Saturday morning to damp down any hotspots.
The cause of the fire is unknown.