Colchester Castle to open with underfloor heating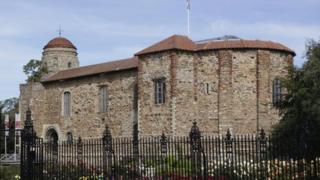 A Norman castle is re-opening to the public with new underfloor heating.
Colchester Castle in Essex has been closed for a year for a £4.2m redevelopment project.
Tom Hodgson, project manager, said: "The building was really cold in winter and sometimes in summer.
"Year-on-year we'll be saving on energy and it will also cut down on the number of radiators and electrical cabling we had so visitors can see more of the walls."
The grade I-listed castle dates from 1076 and was built on the site of a Roman temple.
Colchester had been Emperor Claudius's capital of Roman Britain until it was destroyed during the rebellion of Boudicca, the queen of the Iceni.
New app
The new heating system consists of coils which heat water underneath the floors.
Mr Hodgson said: "You have to do it carefully to take account of all the wonderful, old fabric, but once you do that, it's really quite a quick process."
The redevelopment project also features displays about the history of the castle, including a smartphone application to download and projections on the internal walls.
The castle is due to re-open to the public on 2 May.