Conservatives set to lose Brentwood Council majority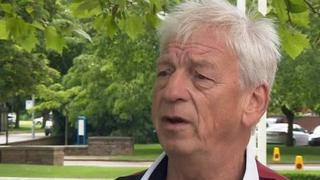 The Tories are set to be stripped of power at Brentwood Borough Council after all its opposition parties signed an agreement to form an administration.
The party lost overall control of Brentwood and three more Essex councils in heavy local election losses.
The "Brentwood Accord" between the Liberal Democrats, Brentwood First, Labour and an independent councillor will be made formal on 11 June.
The Tories accused the group of not having policies of their own.
The new administration will have a majority of one above the Tories.
In Brentwood, which is also the constituency of Tory MP and Communities Secretary Eric Pickles, the Conservatives have had an overall majority at the council since 2004.
But following the elections, the Tories only have 18 seats, meaning the Lib Dems with 11 seats, Brentwood First with four, Labour with three and independent Roger Keeble with one, can take a majority with 19 seats.
The parties said they will remain separate and approach each topic on an issue-by-issue basis, but will form an administration with the Liberal Democrats taking the position of council leader, and Brentwood First taking the deputy leader's role.
In its statement the accord said it wanted to "restore the reputation of the council and regain the respect, trust and faith of residents and business".
Asked whether the majority of one will make the council unstable and lead to political gridlock, Barry Aspinell, Lib Dem leader-elect, said: "I know those individuals very, very well, some of them are very close personal friends. We are united and determined not to let that happen."
But current deputy leader Roger Hirst, Conservative, said: "We know what we stand for and I could understand it if there were a bunch of people coming together who had a common set of policies who were putting something forward of their own - they're not."