Writtle College student in lettuce life-lengthening study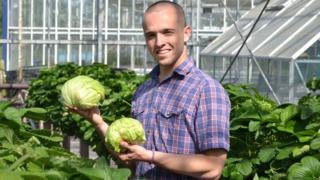 Research into ways of delaying lettuce limpness is being carried out at an Essex college.
Lettuces usually have a shelf-life of about six days and usually start to wilt and turn brown within a few days.
The wilting is caused by dehydration and the browning by oxidation, certain types of bacteria or exposure to ethylene.
Daniel Bright, a horticulture student at Writtle College, is looking at the impact of pine needles on lettuce.
"Once it has been harvested it has quite a short life span," Mr Bright said. "I'm going to be doing some research into lettuces after they've been picked to prevent lettuce from browning.
"There's a lot of research going into meat with pine needle essential oil and that's what I'm going to be doing with lettuce instead."
The hope is the shelf life of lettuce can be extended from six to 10 days.