Senior role for 'incompetent' radiographer Manik Sharma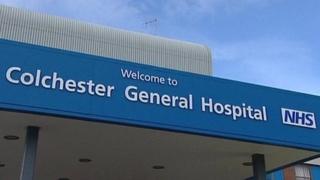 A senior radiographer fired after it emerged he had the "skills of a first-year student" has been given a senior position overseas.
Manik Sharma was given a job after Colchester Hospital interviewed him over the internet in 2012.
But after starting work, colleagues questioned whether he was "actually qualified", a Health and Care Professions Council (HCPC) heard.
It has now emerged Mr Sharma is working at a hospital in India.
Colchester Hospital had employed Mr Sharma as a radiographer, a post with a salary of between £25,000 and £34,000, for two months before dismissing him.
His initial year-long suspension by the HCPC has since been extended by another year.
Cancer hospital
However, the suspension by the HCPC only applies in the UK.
Mr Sharma is now working at the Bhagwan Mahaveer Cancer Hospital in Jaipur as a senior radiation therapy technologist.
Speaking to the council's suspension review panel by telephone, Mr Sharma said he felt he had been blamed for Colchester Hospital's "failures" in "protocols".
The panel said: "Mr Sharma provided considerable documentation to the panel, none of it addresses the concerns highlighted.
"Much of the information he provided is from the manufacturer of equipment at his place of work and to support his assertion that the quality of service offered at Colchester is inadequate."