Animal shelter faces closure threat after £22,000 power bill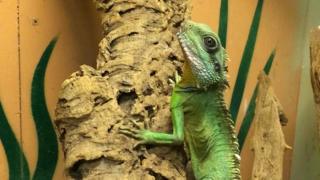 A man who runs an animal sanctuary from his Essex house may have to find new homes for 40 creatures if he cannot pay his £22,000 electricity bill.
Iain Newby runs Dangerous Wild Animal Rescue Facility (Dwarf) from his Great Wakering home near Southend.
It has taken in alligators, piranhas, rattlesnakes and Black Widow spiders.
If the bill is correct, "Dwarf might have to close its doors forever," said Mr Newby, who set up the sanctuary 23 years ago.
He told BBC News he had been putting his own money into Dwarf, an unregistered charity but had struggled to keep up with costs after leaving his job last year, due to ill health.
The father-of-six said he did not want to jeopardise his family home in order to keep the facility open.
"I'll be gutted if it does close, but I can't put my wife, my children, my life, my house in danger," he said.
After posting a photo of his electricity bill on Facebook, some followers of the Dwarf page started trying to raise money to pay it off.
If the electricity bill is correct, and Mr Newby cannot pay it off, he said he would look after the rescued animals until alternative homes could be found.
Included on the list of the Dangerous Wild Animals Act 1976 are a number of invertebrates, snakes, lizards and crocodilians.
Mr Newby said: "Twenty-three years ago there weren't any real rescue centres for reptiles or exotics, now there are quite a few.
"At least if I can't keep Dwarf open, there will be other people to look after these animals."
A spokesperson for electricity company E-ON said a recent meter reading found the "unusually high energy consumption" to be correct.
"This is likely to be due to the electrical equipment needed to run the animal rescue facility at the property," the spokesperson said.
"We are now looking into this matter further and working to ensure that Mr Newby has the correct meter in place for both his residential needs and those of the animal rescue facility."