Nahid Almanea Colchester murder: Plea to cyclists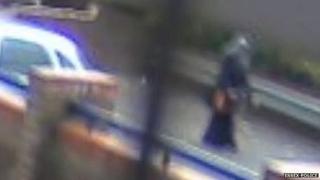 Police say two cyclists might have seen the killer of a Saudi Arabian PhD student who was found stabbed to death on an Essex footpath.
Nahid Almanea, 31, was found with 16 stab wounds on a path near Avon Way on 17 June. She was on her way to the University of Essex.
Her funeral took place at the weekend in her native Saudi Arabia.
Essex Police said they wanted to speak with a man and a woman seen cycling off Avon Way at the time of the attack.
The man and woman "were cycling together and may have seen Nahid after she was attacked", a police spokeswoman said.
They were seen by a witness at 10:45 BST last Tuesday coming heading towards the Greenstead estate from the university on the Salary Brook Trail.
The man is described as being olive skinned with dark hair. He was in his early-20s and looked tall and slim.
The woman is thought to be in her 20s with long dark hair. She was wearing what has been described as a "flowing pattern tiered shirt".
Officers would also like to speak to two other men who were thought to have been on or around the Salary Brook Trail around the time of the murder.
Det Ch Supt Steve Worron said: "I would appeal for these witnesses to come forward and help us with the investigation into Nahid's murder.
"They may have seen Nahid before she was attacked and they may have even seen her killer.
"I would also urge anyone who may know who these people are to contact us and tell us who they are."
Ms Almanea was taking an English language course as part of her studies for a life sciences PhD. She had been in England for less than a year.
Essex Police have not ruled out a possible link with the murder of James Attfield, who died when he was stabbed 102 times at Castle Park on 29 March.
Officers from forces in Bedfordshire, Cambridgeshire, Hertfordshire, Kent, Norfolk, Suffolk and the Metropolitan Police have been drafted in to help the investigations.