Essex PC Michael Winfield resigns over sawn-off shotgun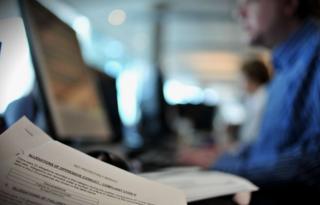 A police officer resigned after admitting possessing a sawn-off shotgun, it has been revealed.
Details of the case are included in a report published by Essex Police and Crime Commissioner Nick Alston into misconduct by officers.
PC Michael Winfield, of The Street, Melton, Suffolk, was suspended after he was charged with possessing a firearm.
The BBC has learned he later resigned after admitting possessing a shotgun and two CS gas canisters.
Winfield admitted the charges at Ipswich Crown Court on 4 April when he was given a two-year suspended sentence and ordered to pay costs of £1,000.
He was also ordered to do 240 hours of unpaid work.
The report highlights cases between October 2013 and March 2014.
They include a list of investigations by the force's professional standards department.
One case concerns an officer who created "inappropriate" profiles on social media sites.
The officer has resigned and their name has been added to a national disapproved list (of people who cannot become police officers), says the report.
It also notes a complaint about how a search for a missing person, found dead, was conducted, which has been referred to the Independent Police Complaints Commission (IPCC).
The force received 482 complaints between October 2013 and March 2014, the report says.
Of those 41 allegations were proved, 146 were not upheld and 202 were resolved locally.
It says 93 cases were withdrawn or found not to apply to the police.
The decision by Mr Alston to make public information on misconduct cases follows a Freedom of Information request last year by the BBC which revealed allegations, including rape and sexual assault, made against police staff.
Mr Alston told the BBC: "It is a tiny minority of officers that are letting Essex Police down. If they are intentionally abusing their position as police officers... if they have crossed the line then it is absolutely right that police are firm with them.
"The public have the right to know that chief constable is being firm and we are being open about that."