Nahid Almanea: Colchester murder 'witness' appeal draws a blank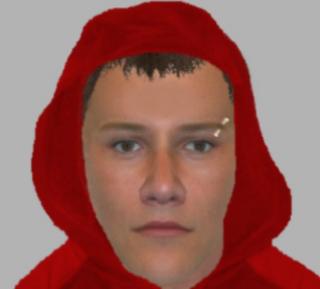 None of the possible witnesses police have issued appeals for in connection with the murder of a Saudi Arabian student has yet been identified.
Nahid Almanea, 31, was found with 16 stab wounds on a path near Avon Way in Colchester, Essex on 17 June.
Officers have taken more than 200 statements and visited more than 600 properties.
But Essex Police have yet to track down any of the people they have asked to come forward.
They include:
A man in a distinctive beige jacket seen shortly before Nahid was found
A woman seen walking from an underpass with a number of dogs
A man with two Staffordshire Bull Terrier-type dogs who was seen coming from Scarfe Way around the time of the murder
Two people on bicycles - a man and a woman
A male jogger who was running up Hewes Close
A tall man in a trilby-style hat.
On Thursday, police released an e-fit of a white man aged 18 to 25 who was seen running up nearby Hewes Close at 10:56 BST.
He was described as of medium build with dark hair and was wearing a long-sleeved plain hooded top in "London bus red" and dark trousers.
He had a piercing in his left eyebrow.
A police spokesman said: "This image has had a great response from the public.
"Officers are now working on a number of leads to trace the man so we can speak to him."
Ms Almanea had been walking to the University of Essex, where she was studying an English language course.
The murder probe is being run in parallel with a separate investigation into the murder of James Attfield. The 33-year-old was found near Castle Park in Colchester on 29 March.
"The investigations into the murders of Nahid Almanea and James Attfield are two of the largest carried out by Essex Police in last 10 years," said Det Ch Supt Steve Worron.
"Their family and friends have my commitment that Essex Police is doing everything possible to bring those responsible to justice."