MP and Essex PCC clash over Harlow traveller sites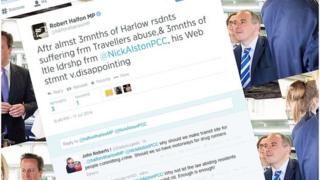 A police and crime commissioner (PCC) has shown "little leadership" over illegal traveller encampments, an MP claims.
PCC Nick Alston and Harlow MP Robert Halfon met to discuss recently arrived travellers in the town.
Mr Alston said police should act "fairly and firmly" but also voiced concern at a lack of "transit sites".
Mr Halfon said the PCC's response was "disappointing" and urged affected residents to contact Mr Alston.
Mr Halfon, a Conservative, said residents had been "suffering" for almost three months and said there "should have been a policy of zero tolerance from (the) beginning".
Mr Alston, also a Conservative, said there had been a "frank and open exchange of views" about the encampments in areas such as Third Avenue, Latton Common and Harlow Common.
He said the police would "always enforce the law without fear or favour".
"There needs to be co-ordinated working between all the parties - particularly Essex Police, the local council, Essex County Council, landowners and travellers to deliver both short and medium term solutions to these issues," he said.
"I am disappointed that there is not a single transit site for travellers in our county, as the provision of such an area might help to prevent some of the frustration which we are seeing in Harlow."