I Am Music Festival cancelled by Colchester Borough Council over safety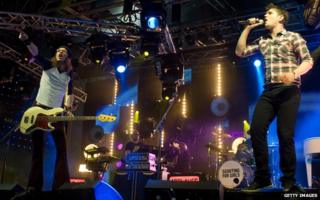 A music festival expecting thousands of visitors has been pulled hours before it was due to begin over safety fears.
The I Am Music Festival was set for Colchester's Castle Park earlier with a potential 8,500-strong audience.
Colchester Borough Council cancelled the ticketed event on Friday after the festival failed "to meet the criteria of providing a safe event", it said.
Organisers the I Am Music Community Group said it was "postponed due to circumstances beyond our control".
Indie-rock band Scouting For Girls were due to appear at the one-day festival, along with rapper Chipmunk, boy-band Union J and local X Factor finalist Sam Callahan.
A Colchester Borough Council spokesman said: "After emergency talks with police and organisers last night, Colchester Borough Council has withdrawn the use of Castle Park as the venue for the 'I Am Music Festival'... on the grounds of serious health and safety issues and police advice that this would not be a safe event.
"The organisers... were given a substantial amount of time to arrange the event and put in place the safety features required for a festival of this magnitude.
"They have been unable to meet the criteria of providing a safe event... subsequently, the council and police have agreed the festival is not safe to go ahead."
Tickets for the music and community festival were sold at £42, with VIP tickets retailing at £85.
In a statement the I Am Music Community Group said: "We sincerely apologise for what has happened and the inconveniences this has caused. Once a new date has been confirmed we will provide full details.
"Any tickets previously purchased will be accepted under the same terms and conditions."
Carol Gale, who had organised a children's dance performance for the festival, said the first she knew about the cancellation was seeing a Facebook post.
The organisers "should be up front, they should give everybody a full refund and man up", she said.
The I Am Music Festival organisers have been unavailable for further comment.