Witham acid attack victim tells of 'face melting'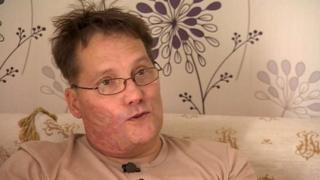 A father of two who had acid thrown into his face says he initially thought the liquid was just juice.
Wayne Ingold was attacked by two men outside his flat in Bramble Road, Witham, last month.
The 55-year-old suffered extensive burns after acid was thrown at him. Essex Police said Mr Ingold was not the intended target.
Mr Ingold told the BBC he just wanted those responsible for the attack "brought to justice".
Describing the attack, Mr Ingold told how he went to check the post box in the communal hallway of his block of flats.
He saw a man in his late teens or 20s kicking at the door.
The man was shouting and when he opened the door, a second man started spraying him with a liquid.
"I thought to myself, naively, why is he spraying juice over me?" said Mr Ingold.
"But within seconds, the pain was unbelievable. I put my hands up to my face, turned and ran back into the flat.
"I looked into the mirror in the bathroom and it looked like my face was melting.
"I thought (at first) it was drink, because it looked like a sports bottle.
"But then I could smell acid - it took me back to my school days in the chemistry lab. And then the pain hit me. And I didn't want to wash it off with water, because I didn't know what effect it would have on me.
"It was so strong, I swallowed some of it - it stained my gums and turned some of my teeth black."
"Why should I have to go through this pain, why should my family be upset for no apparent reason?
"It felt like knives going into my face, neck and arms. I've had skin grafts from my leg, which is very painful."
He called on his attackers to look to their "consciences" and to "think (about) what it's done to me".
"Please report these people. They're ruining lives."
The police investigation into the attack is ongoing. The force previously said Mr Ingold was "in the wrong place at the wrong time" and has appealed for anybody with information to come forward.