Mountnessing woodpile could burn for another month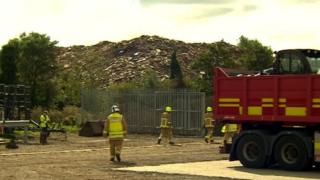 A blaze in a 50ft (15m) high woodpile on farmland could burn for another month, Essex firefighters said.
The fire, on land at Thoby Lane in Mountnessing near Brentwood, has already been burning for five weeks.
Firefighters estimate there is about 5,000 tonnes of wood and other materials in the pile.
Bob Walls, from Essex Fire and Rescue, said debris could be moved to speed up the burn but he warned that could create more smoke.
There was also the possibility of contaminating local rivers with hose water run-off, he said.
Jamie Brown, from Brentwood Autos, which is next to the woodpile, said he shut the business for the first two weeks of the fire and had lost customers.
"It has got smaller but the smoke is increasing in the cold weather," he said.
The Fire Brigades Union was concerned about crews tackling the fire 24-hours a day since 18 August because it reduced their availability for emergencies across the county.
Jamie Fairfull, from the Environment Agency, said it was supporting the fire and trying to prevent chemicals seeping into the river.